GFSI & Food Safety Culture: Industry Experts Q & A
According to the Global Food Safety Initiative's (GFSI)'s new guidance document, a strong food safety culture depends on five key dimensions. Our recent webinar covers these dimension in depth and gives strategies on how to align your food culture to GFSI's goals. Below industry experts Laura Nelson of Alchemy, Dr. Lone Jespersen of Cultivate, and Andrew Clarke of Subway Sandwiches answers some of your additional questions regarding GFSI and food safety culture.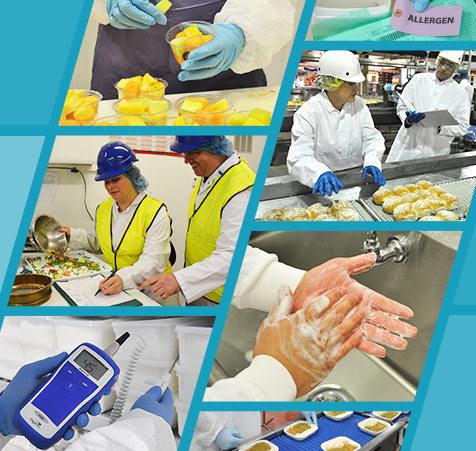 How are GFSI (BRC) auditors being trained to audit companies on evaluating food safety culture?
Laura Nelson: We need to be very clear that auditors will NOT be auditing the food safety culture of the site at Issue 8 audits. The Standard expects sites to have considered their culture, to have developed specific plans for the improvement of the culture, to implement the plans and review and modify their plans by monitoring success. Auditors will be assessing whether these plans are in place and being implemented looking for objective evidence of this.
The intent is to raise the awareness of the importance of food safety culture and nudge management towards recognizing culture as part of continuous improvement. All of the auditors will attend a 2-day training course to understand the changes between issue 8 and issue 7 and ensure a consistent approach to the methods of auditing and expectations of the requirements. The training is carried out by BRC Global Standards trained trainers and the auditors need to pass an exam before auditing to issue 8.
One of my biggest challenges is to identify a good metric to evaluate food safety that focuses more on positive reinforcement instead of a lack of a negative thing (ex. no recalls or no CCP failures). Any thoughts?
Nelson: Excellent question! Several of our customers use training completion rates for their plants as a leading indicator of food safety compliance. They have found that those plants that do not make time for training, also have increased GMP issues, customer complaints, and re-work. Other facilities are borrowing from our EHS colleagues and beginning to track 'near misses' – food safety errors that were identified and corrected prior to packaging.
"Catching" these near miss food safety events enables plant leadership to better understand food safety behavior challenges and celebrate those individuals that helped identify the problems early. Other facilities see a strong correlation between quality compliance – acceptable customer product criteria, weights, etc. – and compliant food safety protocols.
Finally, taking the opportunity to observe employee behaviors around food safety protocols is the ideal opportunity to provide meaningful positive reinforcement and correction of behaviors by explaining the 'why'.
What are some best practices for engaging your employees during food safety training?
Nelson: Group-based training drives increased comprehension as supported by research. Individuals do not want to let their team down and competition helps to reinforce learning. When possible, train employees in a group and use games/gamification (if using technology) to add the fun factor – again as a mechanism for training reinforcement. We have a quiz at the end of each course and the person that answers the most questions correctly and speedily will be celebrated as the winner.
Many of our customers engage their employees in new training courses. For example, they have employees role-play doing a food safety task incorrectly and then correctly as they video their actions. Other facilities will interview an employee discussing their role in executing a food safety behavior and integrate that video as part of the training course. It's amazing how much employees enjoy seeing themselves and their team members on screen!
Remember too that training occurs outside the classroom. Select food safety champions from each shift/line and have them provide pre-shift huddles to discuss weekly food safety topics. Or, use those food safety champions as mentors for new employees as part of your onboarding process. Individuals will have a higher level of comprehension if they can confidently teach their colleagues about correct food safety protocols. Elevate these food safety champions by celebrating their commitment to your company through special recognition programs. You will have new volunteers eager to gain additional recognition!
Why doesn't Subway recognize GFSI-benchmarked standards and instead has its own?
Andrew Clarke: Subway actually does recognize GFSI-benchmarked standards, certification to a recognized standard can enable a Vendor to become provisionally approved prior to receiving an audit against the Subway Expectations Manual.
Our own audit contains some prescriptive requirements which are not contained in GFSI-benchmarked standards, including for 2018, an evaluation of the sites food safety culture, something which is not presently mandated in any of the GFSI recognized standards.
Supply Chain Program – Do you need GAP audit reports from all produce vendors?
Clarke: Produce is mostly supplied to us from processors and not directly from farms and so we might not necessarily view the GAP audit reports ourselves, our Vendors are expected to manage their suppliers and this may or may not include GAP audit reports, all depends on the region, nature and risk of the supplied product.
Will there be an auditable standard or scheme to measure against the GFSI food safety culture guidance?
Lone Jespersen: The content of the GFSI position paper 'A Culture of Food Safety' will be incorporated into the benchmarking document against which auditing standards are evaluated. As such, there will be future requirements related to maturing and maintaining a strong and positive food safety culture.
What would be some ways to quantitatively measure a company food safety culture baseline and measurement over time to see if initiatives are having a positive/negative/neutral effect?
Jespersen: There are multiple tools available to quantifiably measure your culture of food safety. See Jespersen et al, 2017 for a comparative analysis of eight such tools. Important is to select a method that does not simply use data from one method for example survey. Culture of any kind is about teams and how its members act and assume – behave and believe and as such cannot be fully evaluated just by using one method.
Make sure you choose a method that meets your company's needs for example do you 'just' need an evaluation or also a partner to help you engage stakeholders and create a specific action plan for your company's needs and who can also help you find the best time to re-evaluate if the implemented actions have changed your culture.
How do you measure the impact of a positive safety culture?
Jespersen: 'Cost of Poor Quality' is a food measure as it has been demonstrated to decrease as cultures mature. 'Near-Miss' repeat findings or decrease in theses are also a good leading indicator.
Want to learn more about GFSI and food safety culture? Watch the full webinar.